February 5th, 2019
Seems that I'm am the lucky artist who's name was drawn out of a hat and I am the featured artist for the 2019 February edition of Style magazine. Style magazine is a regional publication covering; Roseville, Rocklin, Granite Bay, Folsom, El Dorado Hills, El Dorado County and Lincoln, California. The author was interested in my family inspiration to start watercolor painting which was the main topic of the article.

If there's one thing that is worth taking away from the article it is how I started painting after middle age for no particular reason except curiosity about family. If I can do it, so can you. It really doesn't matter what the end product looks like, the important part is that you take that step and to follow your heart. You don't know what you can do unless you sincerely try it and persevere. Which leads me to this story...

When I was in high school, a friend's mom kept saying to me I wish I could paint and do art. My response is always why don't you just do it. She would say, but I'm not good enough. This went back and forth on for decades. A quarter of a century later, she finally joins an art club and creates art by painting and drawing. She loves it and her works were are admired by the art club. The painting continues for a few years and she is so happy that she followed her heart. Then she says to me, I wish I had started sooner. About a year later, she died of cancer. I attended the funeral in San Francisco and at the memorial were members of her art club that spoke glowingly of her art and passion for it. At the memorial were many easels displaying her artwork. It was a very sad day but I was happy that she finally took that step and painted. And that is a lesson for everyone, take that step for whatever you want to do, and it's not just about art. Life is short.
December 7th, 2018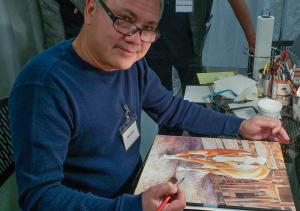 I'm finishing up 2018 and have a plan for 2019. My goal for 2018 was to study California Scene Watercolorists from the 1930's to 1950's, paint faster, and paint larger. For the most part it was successful. I'm now more accustomed to painting a half sheet rather than a quarter sheet of watercolor paper and my speed has doubled. I've read about four dozen books on watercolor with half of those involving the California Scene artists. This is the end of the third year of my watercolor effort and I was more driven this year than the previous two. At this point I needed to decide whether I should continue with watercolor or take up a new activity. After much thought, I decided to continue with watercolor painting.

From all the books I read this year, there are about a half dozen that have some interesting techniques that I need to develop and that will be one of my goals for 2019. It is hard to make a change in style and technique but I need to push myself to go to next level. That also requires making some mistakes and not so great paintings in the process. I can tell you that plein air painting is not easy for me and that is something I need to work on. In a similar vein I would like to be able someday to demonstrate my watercolor painting which requires even more speed since I might be confined to an hour's time. So that's the additional goals; plein air painting, learn how to demo, and learn new techniques. As for actual demonstrations, I'll target 2020.

Some of the side effects of painting larger and faster in 2018 is that I ended up with a lot of paintings and have more big frames/mats. I painted a painting a week, so that's 52 paintings. When I participated in the annual November Placer Arts Studio Tour, I had 120 paintings framed and hanging. Because of my location and historic "Camp" fire in California on the Veteran's Day weekend of my tour show, the smoke was so bad it was deemed hazardous to go outside. About a dozen people came to my location specifically for watercolor despite the smoke. Lucky for me they were dedicated friends and I sold some paintings. I also received some commission work from my friends. At at the rate I'm painting it would be insane to frame the next 50 paintings and then have 170 stored. I will not have enough wall space to hang them for a show. So I will remove old paintings from the frames and replace with new ones. I have decide which 50 tor 60 paintings are no longer worthy, another goal for 2019.
January 22nd, 2018
I'm still alive and kicking. My art goals for 2018:

Study the history of California watercolor painters between 1920's and 1950's. They created a regional art style known by various names including the California Style, California Regionalist, California Watercolorist, etc. It was a style that elevated California to national and even international attention. I would like to know how they painted so quickly and have bold paintings. There are many famous artists in this group including; Millard Sheets, Dong Kingman, Rex Brandt, Milford Zornes, George Post, Hardie Gramatky, and more... One of the artist in this group painted 5 paintings a day for 3 years. How in the world did he do that? George Post painted 1 or 2 paintings a day his entire life and they were half sheet in size. They've also mastered design, composition, and captured California during that period.

I would like to also make a sketch or little painting every single day to improve my drawing skills. There's only way to improve... practice, practice, practice. The only problem with little paintings or sketches is that I don't consider them actual paintings and I'm unlikely to post them on this site. I did post a little plein air painting like Colfax as an example. My idea of a real painting is quarter sheet or larger, that is 11" X 15" minimum. For 2018 I will try to paint at least 1 painting a week until November.

If I combine these two simple goals, I hope to elevate my art a notch for 2018. I still plan to do the Placer Arts Studio Tour (my 3rd) for 2018. The process for acceptance to be complete will be around May. If and when that occurs, I will post a painting a week on this site until November. Then you can be the judge of results of these two goals were for 2018.
May 5th, 2017
I was accepted into the Placer Arts Open Studio Tour for 2017. The dates will be November 10-12th, 10:00 am to 5:00 pm. At this point it the location will be at my home in Roseville, CA., for my art. I will know more specifics after I attend a few of the orientation meetings. It is possible I may have an additional artist(s) at my home. Less likely although not impossible is that I may be showing at a different location. I'll keep you posted.
January 27th, 2017
Working through old paintings that I started but never finished, I ran across a painting of palm trees that I used masking fluid. Masking fluid, aka frisket, is latex in liquid form used to preserve the white areas of the paper while allowing you to paint next to it. In theory you paint the white spots with masking liquid, then apply your colored paint, when the paint dries you can remove the masking by rubbing it off to expose the white paper. To rub off masking, which like a thick rubber cement, you can use; an eraser, frisket removal tool, or even your fingers. A bit of a pain to deal with and I seldom use masking. However, once in a long while, you just have that painting that would work well with it. So my very detailed drawing and painting of the palm trees seemed to fit the bill.

As I'm painting away at these palm trees, I kept thinking how nice my sparkling preserved whites will be. Until I tried to remove the masking... to no avail. Apparently it continues to slowly cure and harden over a long period of time. Unfortunately for me, this painting had been sitting around for more than a year. Guess I found out there's a limit to how long you can leave masking on watercolor paper before it bonds permanently. The worst thing you can do is to put a hair blower to it because that only makes it bond even firmer...and that I did not do.

My only alternative was to try to remove the masking was to use a razor knife. I was surprised that even that didn't work so well. The elasticity in the masking was gone. It was like cutting hardened plastic. A big lesson learned here. Ideally you don't leave the masking on for longer than a week. Then it works like it should. I remember that for the next time if I ever use masking again.

Meanwhile, I finished the palm trees by use acrylic ink with a dip pen to paint over the masking. Live and learn... the hidden danger unmasked for you.


January 6th, 2017
I begin the new year, 2017. My goal is to see what creating and selling art will accomplish in three years and 2017 will be my 2nd year. I plan to do the Placer Arts open studio tour again in the November 2017, which is the only time I focus on selling my original paintings. Although I can be contacted regarding any of the originals at anytime of the year, I'm just narrowing down a public showing to once a year. I just don't see myself buying a 10' X 10' tent and portable shelving, then lugging my art around for some outdoor sale at a show or fair. There are many many artists that do that and it's a tough way to survive. By the time you figure in the transportation costs and time sitting around hoping for a sales, they probably barely make minimum wage. A sad story, not that I mean to start 2017 that way. It's just a reality that affects my creation of art or eventual demise. I was very lucky in 2016 that I had support from friends and recoup some of my material costs and to be able to continue for another year.

My art plans for this year will be more focused on experimentation and less on quantity. I'm not shooting for a painting every week in 2017 like I did in 2016. They happen when they happen. I over did it last year and it put a strain on my right shoulder area. I will make changes to how I paint, meaning taking more breaks often to avoid repetitive motion injury. I'll try not to sit as long as well. That seems to be the new push for health for non-art tasks like even sitting too long at a computer.

The experimental part of the art is to be more bold in trying different in techniques, subjects, and materials. It's not like I have that all figured out yet what I'm going to do. I'm just being more open to creating in a new way. If I see something that interests me I'll try it. I think that's that might be a path to learning and improvement. A way to keep the art interesting and alive. It is an unknown direction I'm headed. Let's see where 2017 takes me.
December 23rd, 2016
I'm still on holiday vacation from art but as the new year approaches it'll be back to the drawing board soon enough. Meanwhile I ponder art. I noticed on this website that I can have a coffee cup with my art on it. So I looked at my various paintings on a cup to see what they would look like. It dawned on me that many of my paintings don't work well with a cup and were never created to do so and on the other hand, a few did work. This is where graphic design comes into play. If I knew ahead of time my art will go on a cup, of course I would make it work. I would look at the shape of the area that needs to be filled and design to work in that shape. The art has to make sense with a cup as well, perhaps making the image more simple to grasp. It could even boil down to almost a logo like image if I really wanted a simple impression of art.

Many ways to create art for the cup but still the art is dictated by the cup. Graphic Design vs Art. The same, yet different. I once heard a well known artist make a comment about a budding art student's work. He said "That's a graphic design not a painting." Back then it was kind of a puzzling statement to me because I thought graphic design and art go hand in hand. Now that statement makes much more sense to me. Graphic design is not any better or worse than traditional art and the two are not exclusive to each other. There is design in art, there is art in design.

The bottom line is that if I want a cup of my art, it'll be much better if I designed the art for the cup from the beginning. It may not be a painting for art's sake. But it might expand my horizons. Plus I'll have something to put my coffee in... So maybe that's one of the many possibilities for 2017, make a cup of art.
November 18th, 2016
Last weekend I held the first open studio tour of my home with two other artists, Noel Sandino and Jeanette Smart. Sandino paints abstracts and Jeanette does a wide range of mediums including oil, acrylics, and watercolor. Together we had about 200 original framed works of art hanging for the show at my house.

Friday and Saturday, the first two days of the weekend open studio tour show were rather dismal. It seemed like only a dozen people came and they were spread out. Meaning 2 or 3 people for one morning then 2 or 3 people for an afternoon. Nothing was selling. The few that came were mostly friends and family. Saturday night after the show I was pondering whether I needed to take up some other activity instead of art as the cost of the art endeavor can not sustain itself.

Sunday was the last day of the show. There was a definite increase in foot traffic. The whole energy and feeling of day changed. Now it seemed like an ongoing party. People were enjoying the art, talking to each other, and seeing of all things some winter melons in my garden as entertainment. Most of the people were still family and friends but now some random people using the free map tour guide as well as a few in the neighborhood meandered in. A friend and old classmate of mine drove from SF to the show just to buy my art. This day was more like what I thought an open studio tour should be. It was like a life line thrown to me while I'm drowning. People were happy and surprised when they saw my art. It did make a difference in their lives and consequently it made it difference to me that I should continue to do art.

In the end, I recovered some of the cost for entering the show and of the materials (paint, frames, matting, etc.) to create art. Noel and Jeanette recovered their entry costs but not much beyond that. Jeanette said she will not do that show next year and Noel was on the fence. I received a message from another seasoned artist in town that did the show last year and he said foot traffic was really low this year.

So what went wrong? Best that we could surmise was that this year a holiday, Veteran's Day, fell on a Friday. Many people will leave town and take vacation trips on a three day weekend. Coupled with the fact that there was record breaking high temperatures in the Sierras (Lake Tahoe) for this time of year, was another incentive to enjoy the last views of the mountains and lakes before snow sets in. Second reason for low turn out was that my specific location had no open studio tour last year. The few that wandered in had no concept of how the open studio tour worked. They were pleasantly surprised when the free map tour guide was shown to them with an explanation. They said they will definitely do it again in next year and tell their friends.

I believe now, there will be more people next year's open studio show. There's also some things I can do to improve my art based on listening to some comments by the visitors. Meaning there were some pieces that were especially liked and I learned why they liked them. Bottom line is that I will continue with art. But I think I'll take some time off to recover and rethink my process. 2017 will be a fresh start and I hope it will even better than 2016.
November 10th, 2016
Last week I attended the Taste of the Tour gallery preview event at the General Gomez Gallery in Auburn, CA. One piece from each of the 77 artists on the Placer Arts Studio Tour was on display and 72 of those artists were able to come that night. I was impressed with the organization and scope of the event which I know took a lot of planning and effort. I arrived at the opening and the very large gallery was already packed. There was live chamber music and two large tables of appetizers. Two bartenders were there to serve wine or beer at another counter.

The best thing for me was the chance to meet 72 artists and talk about their art. It made the whole art community more of a real and human connection. It's one thing to read about other artists but entirely different to talk with them in person. All the artists in the same way have little struggles in common to promote and sell their art.

They also have the same mental process in creating the art regardless of medium. Which reminds me of a conversation with my Sifu (Chinese martial art teacher). Someone asked my Sifu about all the different styles of martials arts and which is better or more effective. My Sifu responded and said their are only so many ways a human can punch. His explanation was that although there were many styles it all boils down to basic elements and basic thoughts. Some of the basic elements of art are shapes, colors, tone values and some of the basic elements of thought are design, relationship of elements, subject matter, etc. In that sense all 72 artists share that common artistic bond.

Having a look around the gallery and seeing the high level of the art work I felt privileged to be part of the Placer Arts Organization. Very creative and professional work by many.

I wrote this blog early because tomorrow, November 11, 2016, will be the first day of the Open Studio Tour and I'll be busy. My gut feeling is that there's going to be a lot of people visiting because the whole event was well organized and promoted by the Placer Arts. Next week I'll write a follow up blog about how it went...
November 4th, 2016
The word "patron" derives from the Latin: 'patronus' ("patron"), one who gives benefits to his clients (like Patronage in ancient Rome). Patronage is the support, encouragement, privilege, or financial aid that an organization or individual bestows to another. In the history of art, arts patronage refers to the support that kings, popes, and the wealthy have provided to artists such as musicians, painters, and sculptors. Although it is an ancient concept, it has bearing today.

Creating art takes not only time but materials, which can be an expense that really adds up. Some art forms are more involved with expensive materials than others. Surprisingly, watercolor painting can really add up when you produced a finished framed matted piece of art with museum grade archival materials. I was looking at a painting I did in my first learning period of watercolors in the 90's and thinking about the cost which included a cheap wooden frame from a general membership discount store which used to be called price club. Nothing wrong with the solid wood frame and the matting purchased at a different store was acid free and archival, the pro paint was lightfast and non-fading. The cost back in the 90's was relatively minor. Consequently the price I sold the paintings for was relatively inexpensive compared to today's prices.

Fast forward to 2016 as I restart my watercolor painting after the 17 year absence. A little tube of watercolor paint costs $25. A double acid free and archival mat for a full watercolor sheet (22 X 30) costs over $100. I guess I shouldn't be surprised. It would be like comparing the cost of a gallon of gasoline in 1994 which was 1.09 per gallon versus today.

I can now appreciate the value and importance of the Patrons of the Arts more than ever. Without their support, most struggling artists will not survive regardless of their skill. When someone buys a painting directly from the artist, it is like throwing out a life buoy. It warms the artistic soul to have some appreciation for the art and provides the means to continue. But it is not just a one way street because the Patron will own a piece of art to enjoy and others will enjoy it as well. Next week( Nov 11-16, 2016) is my Open Studio event in which I plan to sell my original paintings. Whether or not someone buys a painting, even the participation of a person visiting and enjoying the art is also a life buoy. Support is not only financial it is also in the appreciation of art in the spirit of the viewer. I look forward to seeing the local Patrons of the Arts.